Ghalib's Love Story.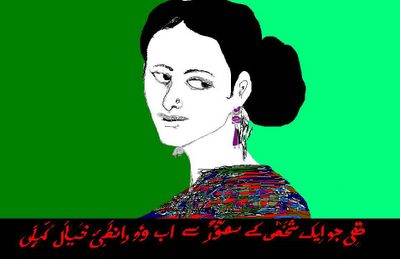 thii jo ek ShaKhs ke tasavvur se,
ab wo raanaii-e-Khayaal kahaa.N
To the mysterious woman ( most probably a courtesan), Mirza Asad fell in love with. He was married. But she is supposed to be the inspiration in many of the gems the prolific man left as legacy.
_________________________________________
Hai.N aur Bhi duniyaa mein sukhanvar bahut aChChe,
Kehte hai.N ke Galib ka hai andaaz-e-bayaa.N aur.
(Yes there are others who write and write well, but it's said
Ghalib has his way with words like no one else does)
mushkil hai zabas kalaam meraa ai dil
sun sun ke ise suKhan_varaa.N-e-kaamil
aasaan kahane kii karate hai.n faramaaish
goim mushkil vagaranaa goim mushkil
(Too hard to grasp is my verse, O heart!
Hearing it, the connoisseurs of art
For a simpler style do ask
Difficult, if I write, difficult, if I do not.)
Well, Mirza, nothing could be said so simply. And you were the master of the art, the craft, its style, and substance. No one has bettered them yet, maybe no one will.
Thank you Mirza for enriching millions of lives generations after generations.
Fans of Ghalib can jog their memory at this beautiful jogging track laid by Nita Awatramani: Urdupoetry.com.